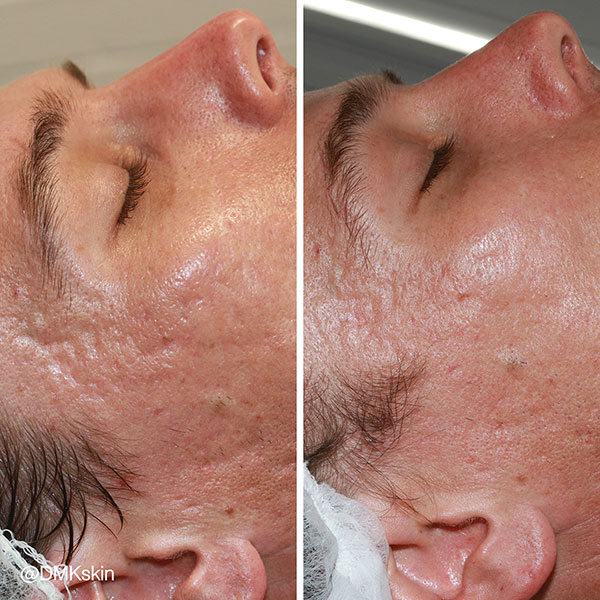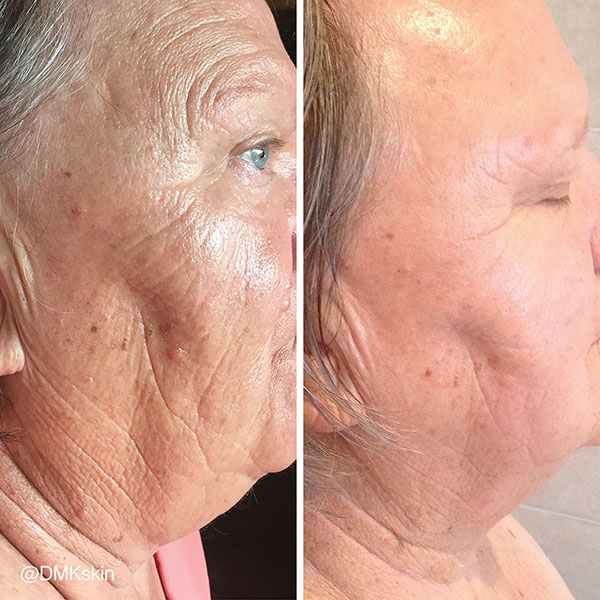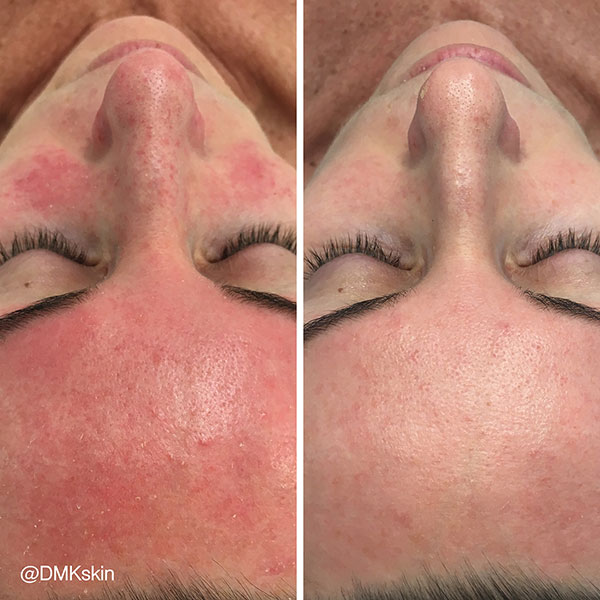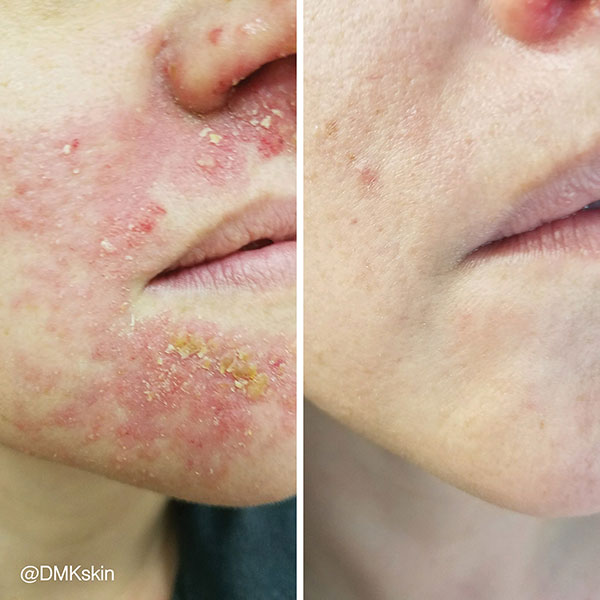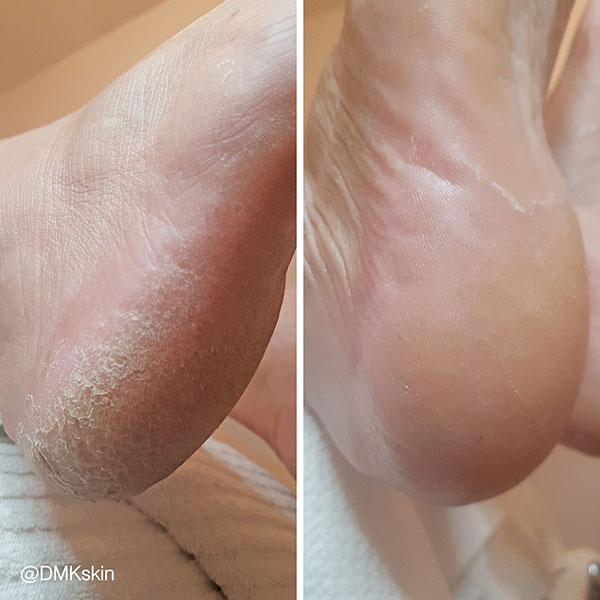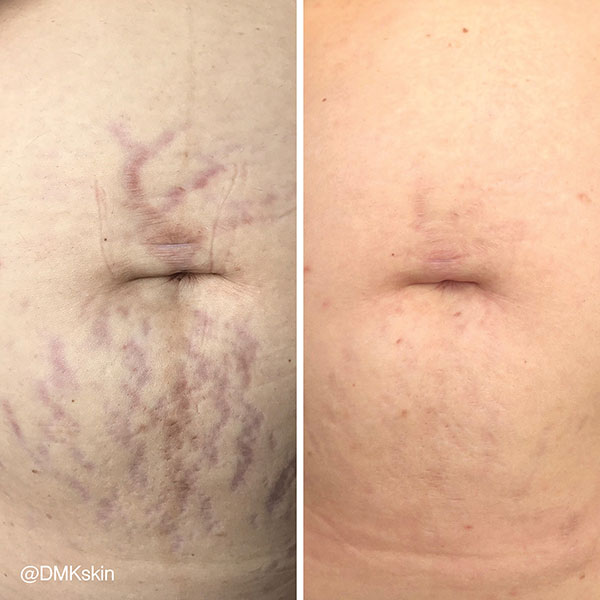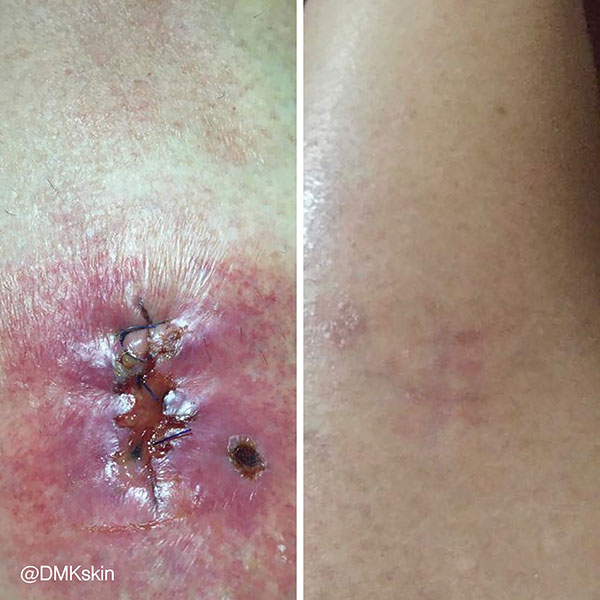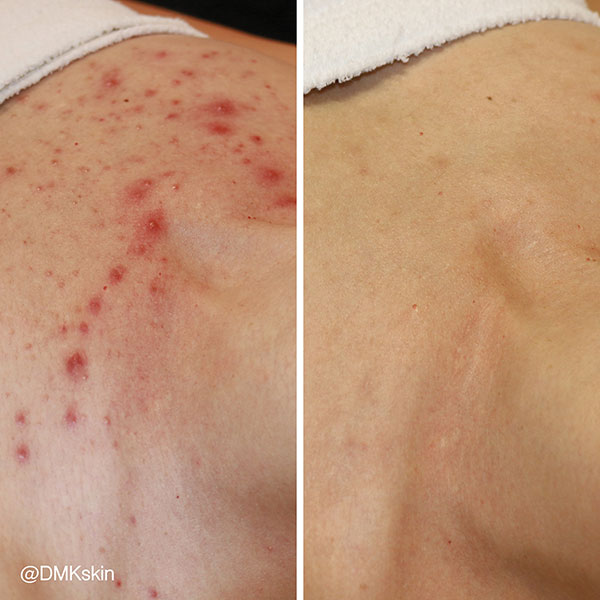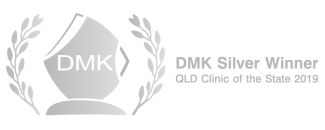 advanced facial treatments
DMK Enzyme Therapy 80 minutes | $155
Enzyme Therapy treatments improve the skin's ability to function by dissolving dead cells and impurities trapped within the skin. This in turn restores vital cellular nutrition and oxygenation required for cellular regeneration.
Enzyme Therapy stimulates collagen production, restoring structural integrity back to the skin. It is suitable for a wide range of conditions such as ageing skin, sun damage, acne, rosacea and pigmentation.
DMK Instant Lift 90 minutes | $190
The DMK Instant Lift treatment provides breathtaking results. Designed to firm, tone and brighten your skin, Instant Lift will give you a youthful, healthy, glowing appearance in just one treatment. This instant 'pick me up' is the perfect choice of skin treatment prior to any special occasion.
DMK Bihaku Skin Brightening 85 minutes | $180
For a luminous complexion. The effects of ageing, stress and the environment influence skin to develop an uneven texture. It becomes coarser, pigmented and imperfections appear. The DMK Bihaku Skin Brightening treatment is a professional program designed to help regain a brighter and more even skin.
DMK Fiberblast C 80 minutes | $200
The ultimate skin revision. This treatment is beneficial for ageing, acne and problem skin. It benefits in all of the following ways:
• Encourages collagen production through fibroblast cells
• Acts as an antioxidant and free radical scavenger to protect the skin
• May help lighten the skin and protect against UVB damage
Muscle Banding 75 minutes | $145
Muscle banding is about acting in advance to prevent the onset of ageing. It not only lifts and firms the skin; it can also help to restore optimal skin function which is the key to youthful, healthy, firmer skin. Fight against the decline that causes ageing.
Pro Alpha Facial 80 minutes | $170
A non-invasive treatment of wrinkles or fragile skin. Liquid Laser is a light, non-invasive treatment that focuses on strengthening, firming and rebuilding the skin. Great for fine lines, superficial wrinkles, fragile, weak or dehydrated skin.
Quick Peel Facial 90 minutes | $170
Energise your skin! Revitalise thickened, uneven, sun-damaged, sluggish or congested skin with a quick peel.
DMK Prozyme & Enzyme Facial 80 minutes | $170
The dead skin cell muncher! This enzyme exfoliator works like a dead skin cell muncher designed to remove congested areas of the skin. The action of these enzymes removes cellular debris and build up, leaving the skin softer, clearer and more responsive.
RP Mini Enzyme Peel 90 minutes | $210
Best used as a series – for those who cant have the down time of a full Remodelling Procedure. The Mini RP aims to revise the processes that have developed as a result of the sun or environmental damage. RP is an industry proven way of dealing with sun-damage, premature ageing, loose sagging and wrinkled skin. This treatment combines DMK's signature Enzyme Therapy to strengthen the structural integrity of the skin to restore optimal skin function for healthy skin.
manzyme 80 minutes | $155
DMK Manzyme Therapy is designed to work in synergy with the skin's natural process specifically for men.
---
acne programmes
Eliminare 60 minutes | $160
An acne treatment to flush and eradicate deep congestion and redness, also recommended for rosacea.
Acutrol 60 minutes | $160
Increase healing, fights bacteria and encourages a faster recovery.
Alphazyme 60 minutes | $160
Dislodge acne impaction and clears the pores of sebum and congestion.
Ultra Hydradamaze Facial 90 minutes | $180
Clear the way for for glowing skin! Hydradermaze is an advanced treatment program designed to help clear acne and congestion. Hydradermaze addresses the causal factors involved in the pathophysiology of acne. DMK achieve long term results ensuring the condition won't just return.
---
led light therapy
$40
For that radiating, wow skin texture, our pain-free, non-invasive LED Light Therapy works at a cellular level (especially great to fight active acne and rosacea). The soothing, deep penetrating LED lights target deep into cells heightening their internal functions, photo-stimulating dermal blood flow, and creates faster healing so your skin always looks rejuvenated.
---
aqua dermabrasion
$120
+ LED Light Therapy Add $30
Revives stressed, dehydrated and overworked skin. An advanced, customised solution is infused into the skin to target specific conditions including pigmentation, congestion or ageing. This revolutionary skin resurfacing technology is perfect for all skin types and leaves skin clean, soft and radiant.
---
dermapen
$280 | Series of 3 $600
+ DMK Enzyme Therapy Add $70
Dermapen is a new technology in micro-needling procedures, which are used to stimulate the production of collagen within the skin to provide skin rejuvenation and plumping. The Dermapen is a small hand-held device that is often used in acne scar treatment, fine line reduction and laser stretch mark removal. This device utilises mechanised puncturing actions to provide fast, effective treatments and uses disposable needles, so there is no risk of cross-contamination.
---
ipl skin rejuvenation
Full Face $400 | Series of 3 $700
Full Face, Neck, Decollatage $500
The advanced IPL Skin Rejuvenation technology at our skin clinic directs well-controlled pulses of light into the upper skin layer. This light is absorbed by two of the body's own natural chemicals – melanin in the pigmented areas and haemoglobin in the red blood cells. 
A younger fresher you will emerge after just one IPL session, although we usually recommend a course of treatments to maximise results.
---
radio frequency
Full Face $400 | Series of 3 $700
Radio Frequency stimulates your skin to firm, plump and repair itself. It uses the combination of fractional radio frequency and dermal stamping to reduce pigmentation and the appearance of scars and large pores whilst encouraging your skin's own repair process.
---
skin nutrition treatments
DMK Transdermal Nutrition Treatments are a range of spa style relaxation facials which utilise the unique DMK Transdermal delivery system to get active ingredients to that target area. Healthy, youthful skin relies on vitamins, amino acids and proteins to maintain its optimum condition.
De-Sensitising Treatment 60 minutes | $110
This treatment is designed to combat sensitive and reactive skins with transdermal anti-inflammatory delivery, restoring normal skin functionality. Aids in reducing redness, inflammation and hypersensitivity whilst boosting the skins immune system.
Biogen C De-Stress Treatment 60 minutes | $110
Smooths out wrinkles, fine lines and expression lines, leaving a smooth, firm and velvet complexion. This is also a great treatment for clients with fragile capillaries, rosacea, or for those who suffer allergies caused by grass or dust.
Herbal Pigment Regulating Treatment 60 minutes | $110
Uneven skin tone and texture, freckles, pigmentation and dull devitalised skin. Prozyme exfoliates pigmentation and melanoplex drops acts as a powerful antioxidant against free radicals to brighten the skin.
Dermatox Treatment 60 minutes | $110
Detoxifies, purifies, clears and cleans the skin of congestion.
Sebaclear Purification Treatment 60 minutes | $110
For congested, oily and acne prone skins. Sebum soak spirals down into the skins pores and dissolves hardened sebum wax on the epidermis.
---
DMK alkaline wash
from $79
Alkaline Wash is the latest way to significantly reduce hair everywhere on the body, especially effective for downy peach fuzz on the face. This unique system requires a consultation, during which your DMK Technician will ensure there are no contraindications and the cost for your area of concern is discussed.