Skin + Wax Clinic takes out the national award at the DMK Annual Awards 2018 – read the latest article in the Fraser Coast Chronicle!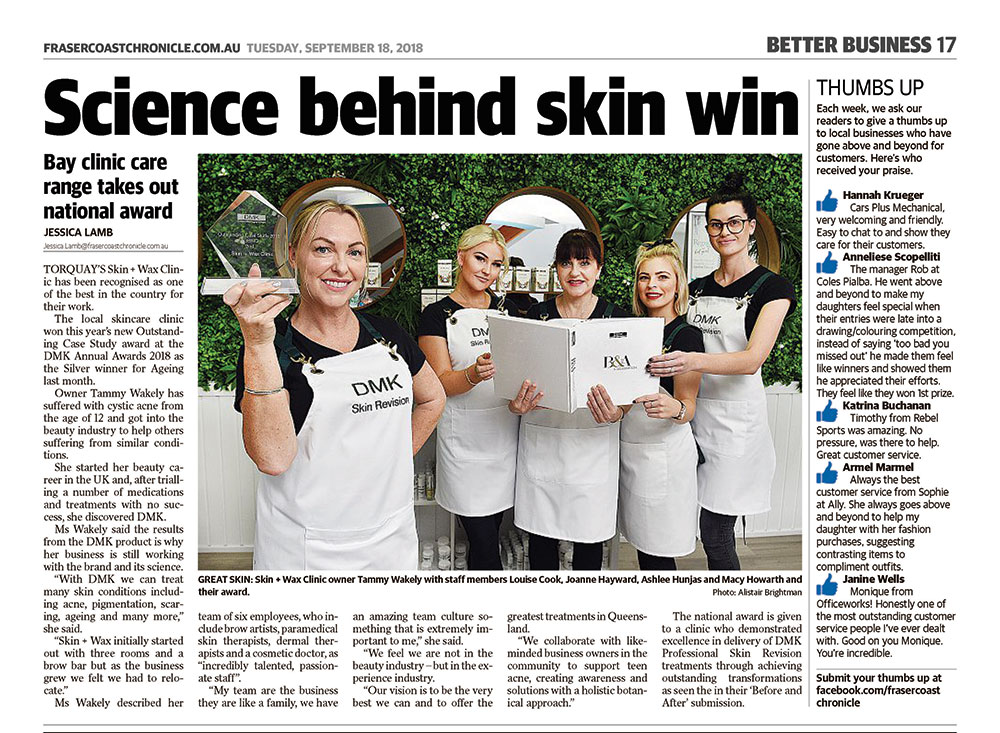 Bay clinic care range takes out national award
JESSICA LAMB
Jessica.Lamb@frasercoastchronicle.com.au
TORQUAY'S Skin + Wax Clinic has been recognised as one of the best in the country for their work. The local skincare clinic won this year's new Outstanding Case Study award at the DMK Annual Awards 2018 as the Silver winner for Ageing last month.
Owner Tammy Wakely has suffered with cystic acne from the age of 12 and got into the beauty industry to help others suffering from similar conditions. She started her beauty career in the UK and, after trialling a number of medications and treatments with no success, she discovered DMK. Ms Wakely said the results from the DMK product is why her business is still working with the brand and its science.
"With DMK we can treat many skin conditions including acne, pigmentation, scaring, ageing and many more," she said.
"Skin + Wax initially started out with three rooms and a brow bar but as the business grew we felt we had to relocate." Ms Wakely described her team of six employees, who include brow artists, paramedical skin therapists, dermal therapists and a cosmetic doctor, as "incredibly talented, passionate staff". "My team are the business they are like a family, we have an amazing team culture something that is extremely important to me," she said.
"We feel we are not in the beauty industry – but in the experience industry. Our vision is to be the very best we can and to offer the greatest treatments in Queensland. We collaborate with likeminded business owners in the community to support teen acne, creating awareness and solutions with a holistic botanical approach."
The national award is given to a clinic who demonstrated excellence in delivery of DMK Professional Skin Revision treatments through achieving outstanding transformations as seen the in their 'Before and After' submission.