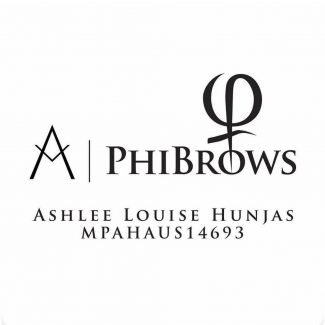 PHI Brows is the most prestigious Microblading Academy in the world. They have pioneered the world leading technique of using the Golden Ratio to achieve the most suitable and beautiful natural eyebrow shape according to the client's facial features. (The Golden Ratio is 1:618).
In order to become a PHI Brows approved technician, Ashlee had to complete an intensive training course, meet a very strict set of criteria and pass a series of rigorous exams. Ashlee is a fully approved PHI Brows technician. She combines her commitment to excellence with her PHI Brows training to offer the most natural, realistic results available.
The perfect "hair-stroke" is one of the most difficult applications to apply. It is purely down to skill, that takes lots of practice too.
Applying the Phi Brows technique getting the strokes to look as natural as possible. The cool thing about microblading is that you can have zero brows, blonde ultra-faint brows, have lost your brows due to alopecia, or just need a little help filling your arches in we can create the appearance of naturally full, timeless-looking brows. We create a custom colour that matches your natural brow colour and uses several shades, so they look multidimensional and real.
Consultation is needed before treatment.
BENEFITS
No More Plucking and Tweezing – Long Lasting Results

The Color and The Shape You Want

Semi-Permanent Solution For Realistic Looking Hair – Natural Looking Results

Painless, Safe and Effective

Time Saving – Hassle-free and Needs No Maintenance