Skin & Wax Solutions
The Facial Bar, is now open!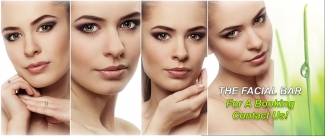 Book Online at Vagara
THERE'S A NEW WAY TO FACIAL : THE FACIAL BAR

It's time for a change in standard facial procedures; that change is The Facial Bar.  Our 30 minute facials aren't a fluff teaser to entice the longer more expensive service. Our service to you is a targeted 30 minute service that delivers great results without breaking the bank.
Click HERE to read more about The Facial Bar!
Or call us for more information!
Special Treatments

See what our clients say about us!
I have visited Skin & Wax regularly over the last year and cannot be happier. Always friendly and welcoming. Thank you ladies.
Love all the services the salon offers. All staff are friendly and helpful. Joanne always makes me feel at ease, and is a real professional you can trust for not only good treatments, but also helpful advice.
Hello my name is Fay .. I have Paris attending to my fingernails every three weeks and eyebrows every six weeks .. I have two problem split nails which she attends to and hopefully may cure in time .. Meanwhile she controls them .. My nails look and feel very natural ..

Paris is such a lovely young lady dedicated to her profession ..

I always look forward to my visits with her and the rest of the staff are just so kind and genuine ..
Tammy and the girls at Skin & Wax Solutions are fantastic. I love all my beauty appointments at S&W, always such a great ambiance and eyebrows are on point every time. Great service, great results and 100% customer satisfaction. Thanks Girls xx
No matter who your service provider is, they will always look after you. I get the same great quality every time I go and I love the fresh brow feeling afterwards.